Omo Ghetto the saga (2020) Synopsis: This is the story of Lefty who, together with her squad from the ghetto, is always getting into one trouble or the other. As luck would have it, fortune smiled on Lefty and she was adopted alongside her twin sister, Ayomide, by the lovely Mrs Benson and moved to an upper-class neighborhood.
Irrespective of all the affluence and the new luxurious change in environment, Lefty still finds herself going back to the ghetto, falls in love in the ghetto, and keeps getting in trouble. Eventually, she gets into one very big trouble with which she tries very hard to get out of. Will Lefty succeed?
Omo Ghetto the saga (2020) Cast
Eniola Badmus
Bimbo Thomas
Chioma Chukwuka-Akpotha
Timini Egbuson
Paschaline Alex
Tobi Makinde
Mercy Aigbe
Zubby Michael
Emeka Okoye
Akah Nnani
Alex Ekubo
Tina Mba
Adebayo Salami
Ibrahim Yekini (Itele D Icon)
Nancy Isime
Sanni Musa Danja
Nosa Rex
Ayo Makun
Chioma Omeruah (Chigul)
Yemi Alade (Yemi Eberechi)
Toke Makinwa
Blossom Chukwujekwu
Omo Ghetto the saga (2020) Crew
Funke Akindele-Bello – Director

Abdulrasheed Bello (JJC Skillz) – Director
Funke Akindele-Bello – Executive Producer
Abdulrasheed Bello (JJC Skillz) – Executive Producer
Wendy Imasuen – Producer
Nicole Ofoegbu – Associate Producer
John Demps – Director Of Photography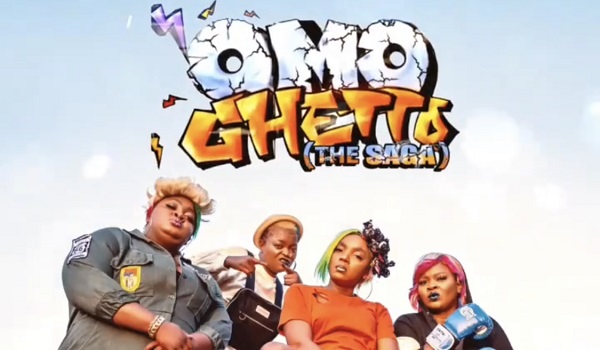 Omo Ghetto the saga (2020): The Review
If you had seen the 2010 Omo Ghetto movie, you would be forgiven to think this movie would be filled with a lot of baseless noise and drama, but you would be wrong. With this movie, Funke Akundele-Bello cements her place as Nollywood Royalty and she will be duly recognised in the hall of fame when we create it.
Omo Ghetto the saga ranks amongt the top movies of 2020. One beautiful thing that Funke Akindele-Bello achieved with this movie is the seamless merging of the Yoruba and English sections of Nollywood. The synergy and chemistry is a testament to her directorial skills, as well as the acting skills of the actors.
The movie covers so many issues we face in society today, including: drug abuse, advanced fee fraud, police corruption, cybercrimes, marriage scam, weapons, underage drug use, slum living, and highlights their challenges. It also showcases beautiful things like family support and loyalty, friendship, and love.
All of these are dealt with in a crucible of comedy, music, action, and drama. The comedy in the movie was unforced and elicited natural laughter. The one liner slangs were used in a natural way, to draw the audience in and build a bond with them.
One of the challenges of Nollywood movies is that of unrealistic fight scenes – actors' poor attempts at fights, and poor handling of weapons – but whoever choreographed the fight sequences in Omo Ghetto the saga deserves an award. The fights were totally real and the wounds were believable.
The makeup for wounds from the fights were truly impressive. The make up artist certainly deserves an award as well. Everyone who had to handle a weapon showed they had handled it well. I would have said the party scene was too long, but the ending of the scene made up for it. It was a hilarious ending, one that was totally worth it.
This movie is a sequel, and the final scene seems to suggest there will be a third installment in the saga, afterall, you need a series of movies to truly have a saga. We hope the next installment will be worth it.
NollyRated Score: Outstanding Movie (5/5)
Join Our Tribe on Twitter: For updates on new Nollywood movie reviews, cinema reviews, and Nigerian movie personalities, join our tribe on Twitter @NollyRated.