The Therapist (2021) Synopsis: After losing everything in a divorce to her abusive ex-husband, a penniless and desperate Eloho Odafe decides to help women in similar situations. With the help and support of her friends, Gari and Dumebi, she sets up an agency solely for this purpose. However, everything changes when an offer is made to Eloho that she can't refuse.
The Therapist: Cast
Chidi Mokeme
Anthony Monjaro
Michelle Dede
Saeed Balogun
Tope Tedela
Toyin Abraham
The Therapist: Crew
Onome Odometa – Executive Producer

Esse Odometa – Producer
Kayode Kasum – Director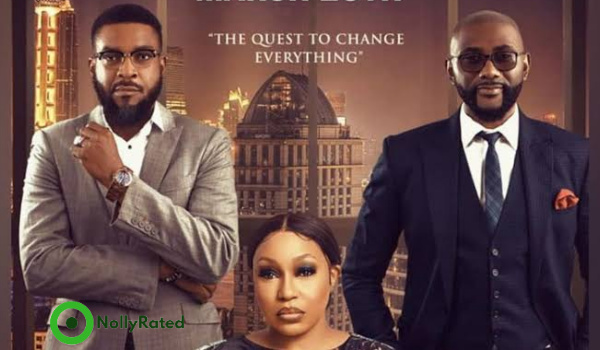 The Therapist: Review
The Therapist is an unusual romantic comedy. I compare it to an exotic non-alcoholic wine, gentle in its humour, unusual in its romance direction. The direction of the movie is totally unexpected, and though refreshing, it is not really punchy. You would not realize it is a romantic comedy until the last few scenes – a nice departure.
The movie addresses societal issues surrounding women in abusive relationships and the challenges they face when they try to break free. It toys with the idea of a superwoman and her group of friends, helping women break free from such relationships. The storyline includes talks about prenuptial agreements. I doubt Nigerians really sign such, but it was an innovative idea to have in the movie.
All the actors have such chemistry that they blend with each other while shining as individuals. Anthony Monjaro is not well known on the big screens, but he is well known on the small screens. He is a very good actor, and here he acts the part of the cold, calculated and brutal, sociopathic abusive spouse so well.
Rita Dominic has such energy that she brings to every role she plays, and it is not missing in this movie. The Therapist is gentle and mostly slow paced, but the light and energy of Rita Dominic draws you in.
Toyin Abraham has the main comedic role in this movie, and she brings her A game, hilariously and effortlessly. The scenes where she spoke in Yoruba should have been subtitled though.
Michelle Dede is such a clean and methodical actor who is mostly stiff, prim and proper in her roles. I would love to see her in a role where she loses her cool and lets out her freaky side. But I digress from The Therapist.
As already mentioned earlier, the pace of the movie is slow, but probably necessary for the type of story told here. However, it grows on you as you follow the dialogue. I will probably not see it a second time, but it was a good movie, and it ended on a sweet note.
NollyRated Score: Okay (3/5)
NollyRated uses a 5-level scoring system, as follows:
Poor
Sub Par
Okay
Great
Outstanding
Join Our Tribe on Twitter: For updates on new Nollywood movie reviews, cinema reviews, and Nigerian movie personalities, join our tribe on Twitter @NollyRated.