Ponzi (2021) Synopsis: With open arms, the trusting residents of a neighbourhood welcome a politician's long lost America-based son into their world. He responds to their kindness by establishing a Ponzi scheme which leaves them in a situation desperate enough to inspire an amateur heist. The heist does not go according to plan.
Ponzi (2021): The Cast
Timini Egbuson – Ikenna

Uzomaka Aniunoh – Abeke
Jide Kosoko – Chief Olaoba
Mawuli Gavor – Robert
Tope Tedela – Tafa
Chinyere Wilfred – Mrs. Olaoba
Gold Ikponmwosa
Zubby Michael – Charles
Mr Macaroni – Uchenna
Broda Shaggi – Chudi
Ponzi (2021): The Crew
Kayode Kasumu – Director

Vincent Okonkwo – Producer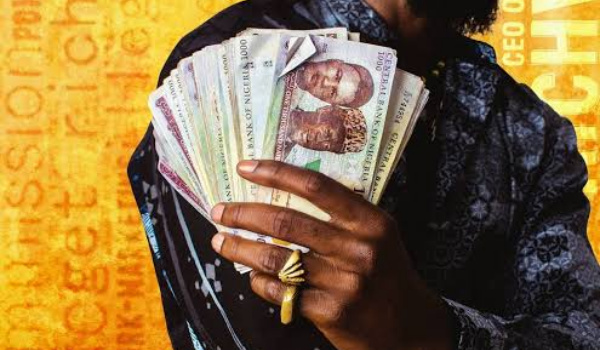 Ponzi (2021): The Review
This movie feels like a mish mash of under-developed ideas with a half hearted romance thrown in. It is not sure if it wants to be a comedy or a satire. As slapstick comedy, it falls short of the expected full-on laughter and ridiculousness. As a satire, it does not have enough ingredients and irony to truly carry that flag. It is full of social media slangs, trending hashtags, and the worst of poverty cliches. 
The fourth wall is the space which separates a performer or performance from an audience; the conceptual barrier between any fictional work and its viewers or readers.  When this fourth wall must be broken, the technique requires skill and finesse. Ponzi uses this technique a lot but with very little success.  The use serves no purpose. The narrator could have been a continued voice over, instead of the occasional breaking of the wall. 
One of the things the movie has good is a particular original music score where almost all the lead actors sing and rap. But beyond that, the movie pace is too slow, the story is all over the place, and it takes too long to establish the plot, or to make any real point. Forty minutes into the movie, and I am still wondering what the movie is all about, then suddenly it is a rush through to resolution. 
Ponzi has good cinematography, and the picture quality is much higher than average. The colours pop. There is real gunfire, but while shooting up within a house, we do not see the evident mortar or plaster pieces falling to show there is a hit.  The costumes are beautiful and well chosen.  Chinyere Wildfred has very few lines and I think her role could have been given to an actor who is not a veteran.
The storyline is shoddy and has misplaced and unfunny jokes. There is unnecessary and unprovoked violence, which adds nothing to the plot or acting. Some of the most important parts that could have added flesh to the movie are done with music, and so lose their impact. Some other pivotal scenes were done without dialogue. 
Broda Shaggi and Mr. Macaroni are lessons in showing that doing comedy skits on social media following is not necessarily going to translate to skilled acting. Broda Shaggi can't seem to break out of the mould of the loudmouth in a movie. 
An ecample of a character who does not fit the role in this movie is Tope Tedela. In his role as a semi-literate mai-suya, he is too refined and too well spoken.
The movie has the most ridiculous robbery scene ever in the movie universe, and it is way too long. The resolution of the issues is rushed and provides no connection with the audience. Whether classified as satire or comedy, Ponzi is quite a bore. 
NollyRated Score: Subpar (2/5)
NollyRated uses a 5-level scoring system, as follows:
Poor
Sub Par
Okay
Great
Outstanding
Join Our Tribe on Twitter: For updates on new Nollywood movie reviews, cinema reviews, and Nigerian movie personalities, join our tribe on Twitter @NollyRated.