Ile Owo (2022) Synopsis: Busola has forever been unlucky with love. Pressured by society and her parents to tie the knot as a means to lift her family out of poverty, she finally meets Tunji – the perfect man. At first, Busola struggles to understand why a billionaire would choose to marry her, but after she accepts his proposal of marriage, a series of increasingly disturbing discoveries lead her to a truth she could never have imagined.
The Cast of Ile Owo (2022)
Bukunmi Adeaga-Ilori
Ademola Adedoyin
Sophie Alakija
Tayo Arimoro
Patrick Diabuah
Mofe Duncan
Temisan Emmanuel
Ikponmwosa Gold
Efa Iwara
Akin Lewis
Tina Mba
Immaculata Oko
Jide 'JBlaze' Oyegbile
The Crew behind Ile Owo (2022)
Dare Olaitan – Writer and Director 
Kayode Kasum – Producer 
Review of Ile Owo (2022)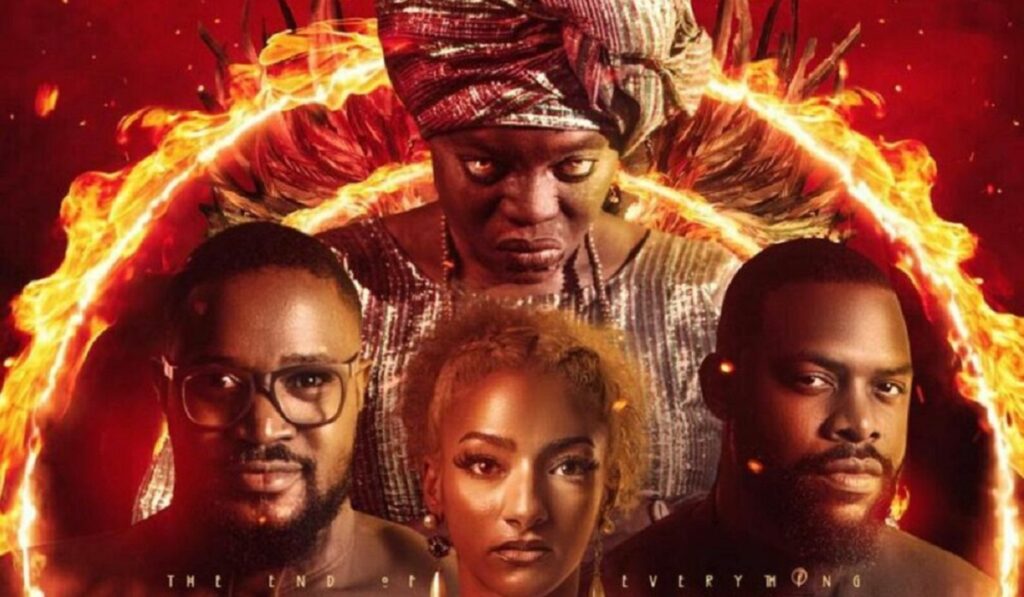 The main thing that attracted me to Ile Owo was the picture of Bisola Ayeola, on the movie poster, playing the role of an old witch, only for me to go see the movie, and she appears only in the last scene showing for less than 60 seconds. It was a great disappointment, but it was the culminating disappointment. You see, the whole movie makes me want to collect my money back, with interest. 
The movie spends too much time focusing on the horror element, and forgets to give us a proper story. It leaves too many questions unanswered, and not in a good way. The female lead is either over acting or under acting. Her screen chemistry with the other actors is almost non-existent. 
The audio of the movie is too loud, and focuses too much on the ominous element. There is not a single enjoyable score in the entire flick. Facial expressions are made baselessly, and we are left guessing what they mean. We never get the meanings, if they have any. Characters show up with no background, and no eventual explanation of their roles in the movie. Eventually, the ending leaves you wondering what you have just experienced. 
As much as we want Nollywood to explore more genres, this particular foray into the horror genre leaves a bad taste in the mouth. It is tepid horror, and has no tasteful story to compensate. The story synopsis has more meat in it than the actual movie. 
Nolly Rating: 1/5 (Poor Movie)
NollyRated uses a 5-level scoring system, as follows:
Poor
Sub Par
Okay
Great
Outstanding
Join Our Tribe on Twitter: For updates on new Nollywood movie reviews, cinema reviews, and Nigerian movie personalities, join our tribe on Twitter @NollyRated.