The plot of Battle on Buka Street revolves around the rivalry between two women who confront each other in a food challenge to win the prestigious 'King of Buka Street', a title conferred to the best local food seller in the region.
Battle on Buka Street: Cast
Battle on Buka Street: Crew
Directed by Funke Akindele and Tobi Makinde
Produced by Funke Akindele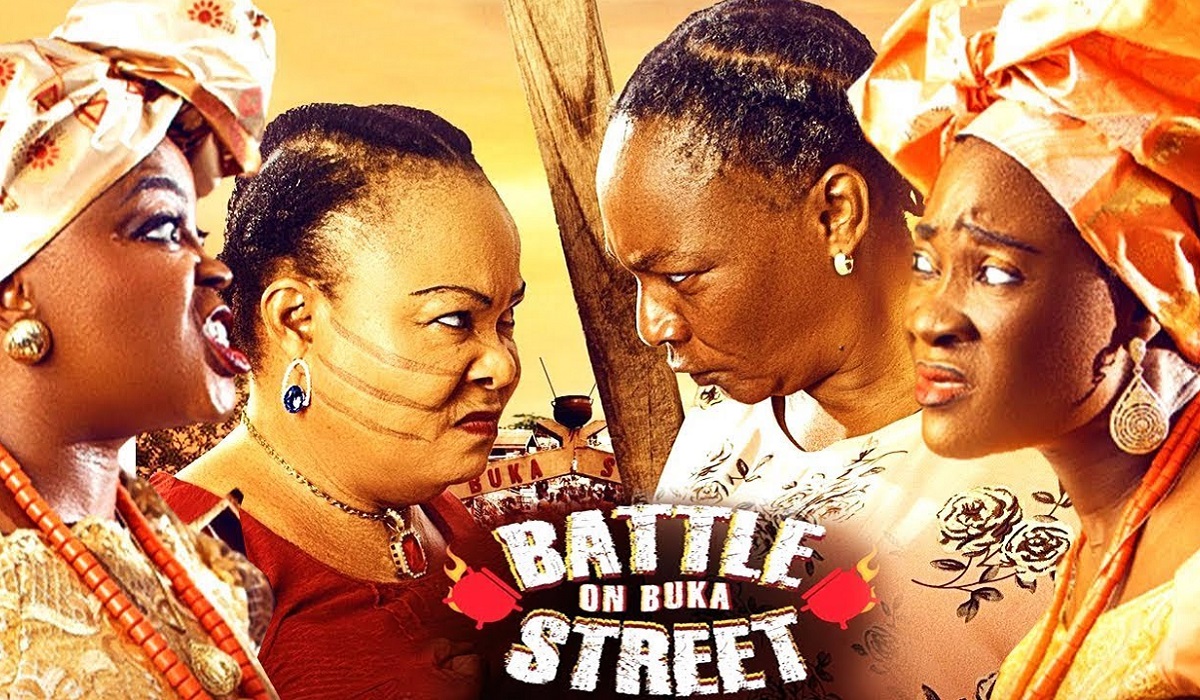 Battle on Buka Street: Review
If you think this movie is about food, you would be right and be wrong at the same time. It is much deeper than that. It is a movie that holds up the mirror to an aspect of our society and how we manage rivalry and conflict. This movie has almost everything – comedy, drama, tragedy, and romance – and the transitions between the genres are hardly noticeable.
Battle on Buka Street is a simple story with a simple plot and great acting. Both the veterans and the new actors give a good report of themselves, and the veterans do not try to overshadow the new faces.
I am an advocate of our movies showcasing the robustness of our languages, and the intermingling of lives and languages. We do not speak one language all the time, and almost every town in Nigeria is a crucible of our multiple cultures and languages. Battle on Buka Street provides this in spades. The beauty of our languages and the intermingling of our lives are very present in this movie, and I totally approve.
Mercy Johnson and Funke Akindele have been in movies together on the small screen, but this may be the first time they are together on the big screen, and their on-screen chemistry is a beauty to behold. Both actors are queens of the screen, and they blend so well in their performances here.
The movie manages to provide plot twists that keep it interesting, and as usual, the conflict resolution is quite short compared to the long build-up of the story and drama. I hope to one day see Nollywood give us a movie without a rushed conflict resolution.
The time era is a bit confusing: they show through the furniture and props that the movie is set in the late 80s to early 90s, before the mobile phone era in Nigeria. But then we suddenly see everyone with mobile phones, still with the same furniture. Some of the characters' story arcs are left loose without a conclusion and even the beginnings are not clear. These however do not take away from the story.
Nollyrated Score: 4/5 (Great Movie)
NollyRated uses a 5-level scoring system, as follows:
Poor
Sub Par
Okay
Great
Outstanding
Join Our Tribe on Twitter: For updates on new Nollywood movies, reviews, cinema reviews, and Nigerian movie personalities, join our tribe on Twitter @NollyRated.