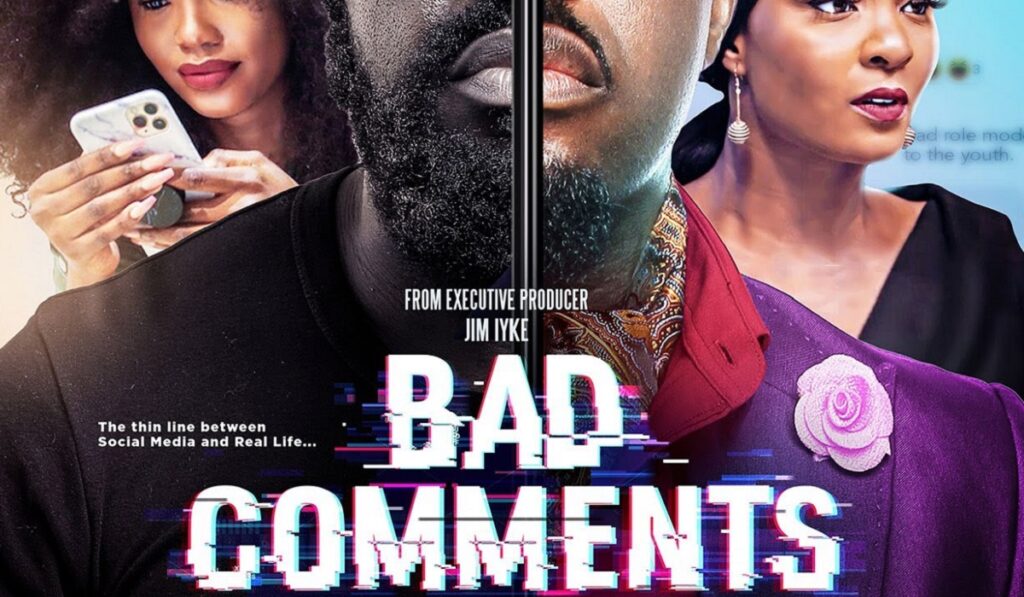 Cast
Chiwetalu Agu
Yemi Blaq
Edward Chukwuma-Jiah
Ini Edo
Osas Ighodaro
Jim Iyke
Ayo Makun
Sharon Ooja
Patience Ozokwor
Ben Lugo Touitou
Crew
Moses Inwang – Director
Darlington Abuda – Producer
Jim Iyke – Executive Producer
Synopsis
Bad Comments is a fast-paced fusion of drama and thriller, with a blend of momentary comedic reliefs. Inspired by true-life events, it mirrors the life of celebrities and how their careers can be at the mercy of propaganda circulated by social media trolls.
Review
If you are looking for a tight plot and great storytelling, Bad Comments is not the movie for you. However, if you want some good laughs and nostalgia of some Nollywood veterans, then grab your popcorn and bottle of soda. 
This movie has good cinematography, beautiful costumes and great locations. The story about social media trolls has potential, but it ends up being about one person and his one bad experience. The movie could have explored and pushed the envelope further, but the plot was kept very simple: there are no sub-plots to give us something to think about and enjoy away from the main character. The whole movie revolves around Frank Orji.
It is good to see Jim Iyke back on our screens, but I feel his talent is not fully explored here. The analysis and resolution of the conflict is rushed: it appears the producers ran out of time and budget and needed to wrap up on set. Osas Ighodaro is a beauty any day, and she is the quintessential Personal Assistant, but as a villain, she falls flat. Sharon Oja is not a convincing primary school teacher, and her living quarters look too opulent and put together for someone who teaches children in elementary school.
The opening scenes have no correlation to the rest of the movie. The movie tries to give a happily ever after moral story, but it leaves the audience wondering about the connections.
The story is about trolls, but it ends up actually trolling the trolls, defeating the purpose of bringing bullies to justice. It employs virtual jungle justice, doing exactly what it claims to deal with. The story arc is all over the place, and some scenes have no proper transition. 
Nolly Rating: 3/5 (Okay Movie) 
NollyRated uses a 5-level scoring system, as follows:
Poor
Sub Par
Okay
Great
Outstanding
Join Our Tribe on Twitter: For updates on new Nollywood movie reviews, cinema reviews, and Nigerian movie personalities, join our tribe on Twitter @NollyRated.