Synopsis: A lady runs into her ex and tells a simple lie that spirals out of control, triggering a series of unplanned events and reactions.
A Simple Lie: The Cast
Bukunmi Adeaga-Ilori
Emmanuel Ikubese
Kachi Nnochiri
Blessing Obasi
Bolaji Ogunmola
A Simple Lie: The Crew
Biodun Stephen – Director and Producer
Mannie Oiseomaye – Writer
Oluwatara Ajibulu – Producer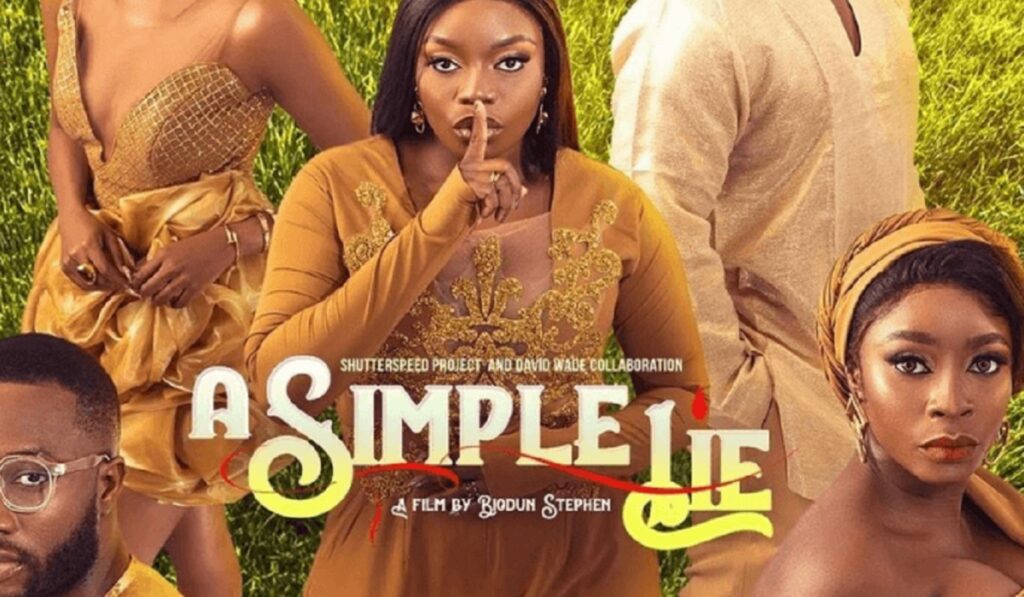 A Simple Lie: The Review
A Simple Lie is a comedy, the genre that Biodun Stephen is comfortable with. This one starts slow, and I begin to wonder when I will see the big story. The story eventually comes together, but there are a lot of loose ends at the beginning. Most of the action in the movie takes place in one spot, almost like a stage play. We therefore have to see the backstory in flashbacks. The flashbacks are a bit confusing, and it takes a while to get the timelines. Yet, we have nothing to really indicate timelines until the actors mention them.
This story is funny, but it plays out a lot like a gossip rag, and some storylines the actors play out do not sound realistic. If, however, you are looking for something to just laugh about, not necessarily teaching a major lesson, then a Simple Lie is a movie you should see.
The story does not take place across a lot of scenes, but it is difficult to see a lot of it, as the actors are telling it to us, revealing secrets. We have to take their word for it. At a point, the revelations become predictable, and you know what is coming next.
Kikie, a skit maker, mostly stays true to her character, and we see flashes of seriousness. Perhaps she would like to be taken more seriously than her skits are. Bisola Ayeola is an actor's actor, and you can be sure she interprets any script given to her with everything. Her eyes are very expressive, her body language tells you the story, and she brings this in spades in this movie. The men in the movie are okay, but the weight of carrying the movie is on the ladies.
This is an okay movie. I would probably not see it again, as it is not as memorable as what we have come to expect from Biodun Stephen. 
NollyRated Score: 3/5 (Okay Movie).
NollyRated uses a 5-level scoring system, as follows:
Poor
Sub Par
Okay
Great
Outstanding
Join Our Tribe on Twitter: For updates on new Nollywood movie reviews, cinema reviews, and Nigerian movie personalities, join our tribe on Twitter @NollyRated.