A Naija Christmas (2021) Synopsis: Determined to carry out their mother's one wish, three young men scramble to find wives they can bring home by Christmas, as she sets out to plan the most beautiful Christmas celebration ever.
Cast
Rachel Oniga: Agatha Agu (Mama)
Segilola Ogidan: Ajike
Kunle Remi: Ugo
Efa Iwara: Obi
Abayomi Alvin: Chike
Ade Laoye: Kaneng
Linda Osifo: Vera
Lateef Adedimeji: Tony Torpedo
Carol King: Deaconess Fakorede
Mercy Johnson Okojie: Mrs. Bliss (Sammy)
Onikosi Bukola Abisoye: Gym Lady (as Onikosi Abisoye)
Uzoamaka Aniunoh: Cassie
Jude Chukwuka: Prof. Zeb
Joseph Jaiyeoba: Javelin
Imoikor Joseph: Pastor
Temitope Olaiwola: Taxi Driver
Alabi Pasuma: Special Gala Artiste (as Wasiu Alabi)
Crew
Kunle Afolayan: Executive Producer
Segun Akintunde: Line Producer
Seun Soyinka: Producer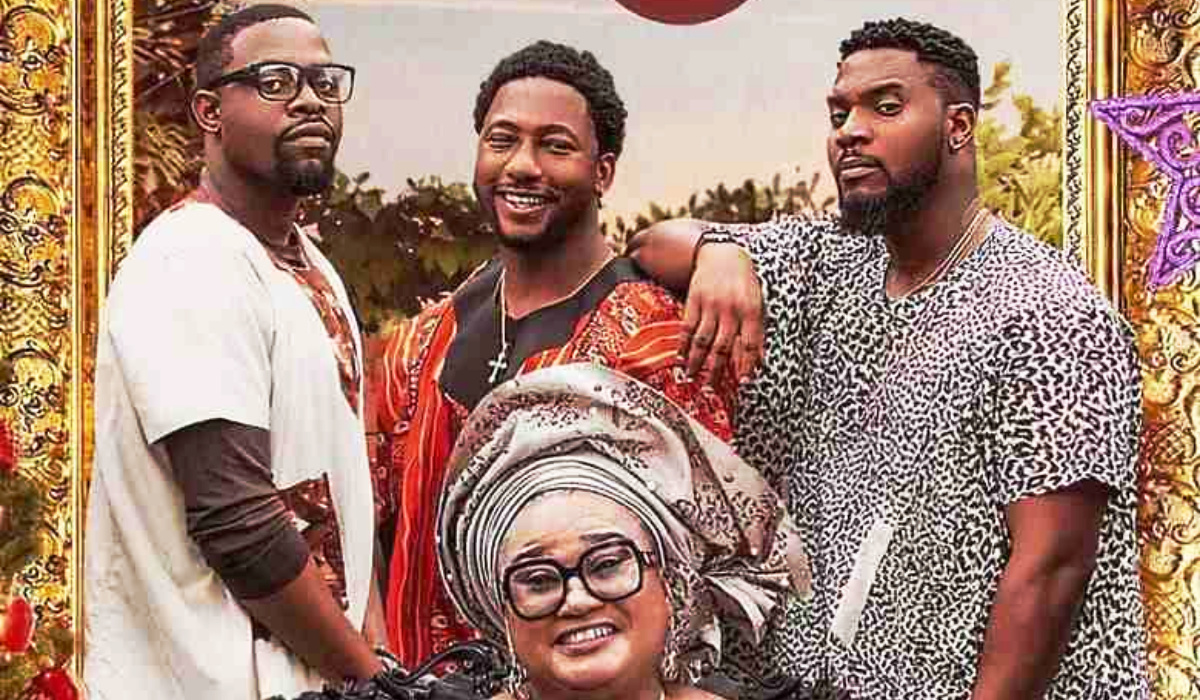 A Naija Christmas: Review
A Naija Christmas weaves the story of rich boy, poor girl around the story of Christmas. At the same time, it is not your regular Christmas story. Neither is it your regular rich boy, poor girl story, but an eclectic mix of romance, comedy, music, and dance. There is the smiling villain, unrequited love, and Nigerian Christmas tradition. It is the sweet story you didn't know you needed to watch.
If there is one thing Kunle Afolayan has down to a science and an art, it is tugging at our heartstrings with the right mix of Nigerian flavoured stories that have you smiling, because you recognize yourself in those stories. He also has a way of bringing together his actors, old and young, in a mix that has everyone recognizing themselves in the characters.
The acting in this movie is top-notch, and it is evidence of the skill of the director. Likewise, the cinematography gives such beautiful picture quality, you want to see it again and again.
It is heart-warming to see the late Rachel Oniga in her element, and the tribute to her is sweet. Segilola is a breath of air; she is not your helpless poor girl in a rom-com, but a strong, self-assured woman. I like the portrayal. Kunle Remi, as usual, gives a good report of himself as the incurable playboy, but who wants something and would do anything to have it.
The contrast to him is Efa Iwara; it is interesting to see Efa portray the brilliant and clueless art person, who has puppy love for someone who won't reciprocate. It is a departure from his usual role of the self-assured man. He has a range that I look forward to seeing more directors explore.
A Naija Christmas takes us from the idyllic Ikoyi, where everything is calm and high-class, to the bubbling Mushin, where you can be obtained if you don't stand well. You see the beauty of Lagos at night, when it is well lit. You feel the real Naija Christmas spirit, and you want to share it with others.
NollyRated Score: 4/5 (Great Movie)
NollyRated uses a 5-level scoring system, as follows:
Poor
Sub Par
Okay
Great
Outstanding
Join Our Tribe on Twitter: For updates on new Nollywood movie reviews, cinema reviews, and Nigerian movie personalities, join our tribe on Twitter @NollyRated.